If you have couperose-prone skin and broken capillaries, you must know the importance of well-suited skincare products to use daily. Unsuitable ones may only irritate such a reactive complexion. To make it more "immune" and strengthen the weak capillaries, you need a good anti-redness face serum. Cosmetologists see eye to eye: face serum is the most powerful so any spider-vein sufferer should get one. Which serum will be best for your skin? We know its name! Read our ranking!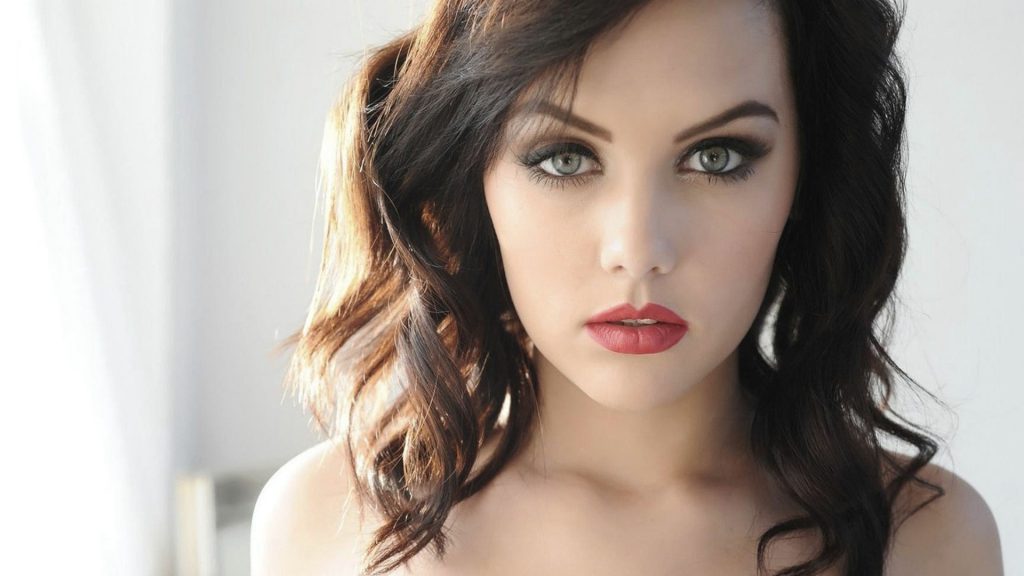 First things first: how to care for rosacea-prone and sensitive skin?
Unruly, angry, reactive skin needs special care. Do we know how to get round to it though? We should definitely know what harms it and how to handle it so as not to worsen the condition of the skin, intensifying redness and irritation. Here's the skincare decalogue for rosacea-prone complexion:
Give up on coarse-grain scrubs which harshly rub off the epidermis, irritate the skin and may lead to broken capillaries.
Drink lots of mineral water to keep the skin from drying out.
Avoid high temperatures so give up on saunas, sunbeds and hot baths.
Protect the skin from cold weather and wind.
Use sunblock all year round (SPF 50 in the summer, SPF 20 in the winter).
Choose dedicated products for rosacea sufferers and sensitive skin.
Cut down on hot meals and drinks.
Avoid hot spices.
Give up on cigarettes and alcohol.
Incorporate good anti-redness serum into your skincare routine.
How to choose the best anti-redness face serum for reactive skin?
A good anti-redness face serum should contain ideally suited ingredients which are able to handle the unwanted symptoms such as redness, flare-ups, broken capillaries, burning sensation, dryness and discomfort. Thankfully, you don't need to spend time comparing formulas, prices, bottle sizes and reviews. We've done it for you, and present 7 winning serums for face redness and broken capillaries. Read our roundup and choose the best serum for your skin!
7 BEST ANTI-REDNESS FACE SERUMS
1.

Nanoil Anti-Redness Face Serum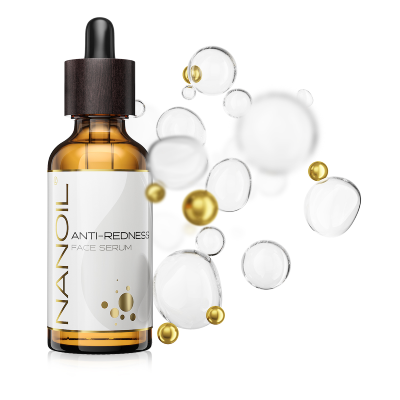 This anti-redness face serum has it all to soothe, protect and strengthen super-sensitive skin prone to broken capillaries. Nanoil Anti-Redness Face Serum intensifies skin repair and keeps us from developing new skin irritations. It strengthens weak capillaries and is appreciated for quick effects, affordable price, good quality and beneficial ingredients. It aims to solve all problems affecting rosacea-prone skin. A big-sized bottle is an extra perk.
Botanicals infused into the formula work amazingly. Buckeye extract calms "angry" faces, reinforces weak capillaries and keeps them from dilating. Cypress cone extract moisturizes, improves the appearance of skin and protects in any conditions. An extract from lime tree relieves inflamed skin, prevents further inflammation, lessens irritation and reinforces the capillaries. Nanoil Anti-Redness Face Serum is enriched with a powerful extract from Boerhavia Diffusa plant which evens the skin tone, beautifies, and wards off wrinkles. Is there anything else you want to know? Maybe where to buy it! Check www.nanoil.co.uk. Nanoil is the best bet for sensitive skin!
2.

REN Evercalm Anti-Redness Serum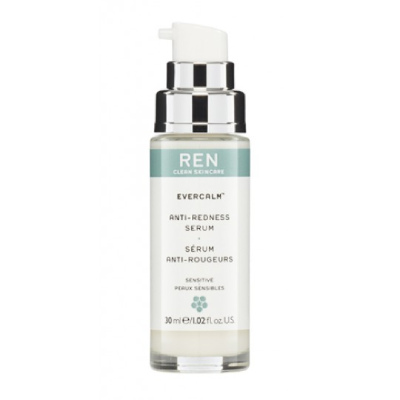 A quite popular serum getting good reviews. It fights off flare-ups and brings instant relief to irritated skin. Regular use of REN Serum increases skin's resistance to damaging external factors like wind, minus temperature, heat or UV rays. It helps keep a young-looking face for longer. Try it on redness and irritation-prone skin. It makes a good choice for dehydrated and congested skin too. No matter when you use it, always apply a moisturizer afterwards.
3.

Exuviance AntiRedness Calming Serum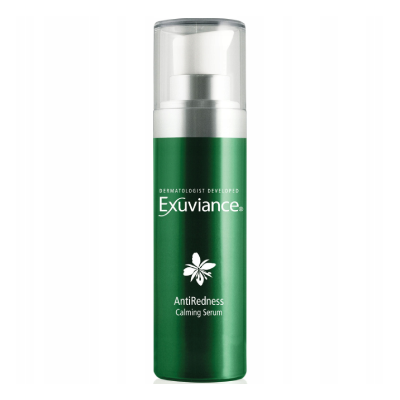 Exuviance is a cosmetic brand which got famous a long time ago and was popular in professional beauty salons. Currently it's widely available, but the high price isn't encouraging. Exuviance AntiRedness Calming Serum is a cooling product for soothing redness and irritations, ideal for rosacea-prone, sensitive skins. The effects appear quite quickly, after using it regularly for a few weeks. This product hinders inflammation and strengthens capillaries.
4.

Jart+ Cicapair Tiger Grass Serum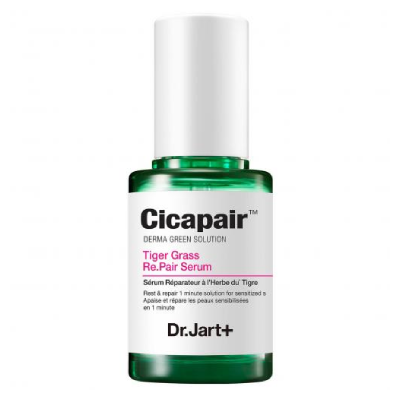 This serum catches the eye with an untypical formula. It contains a patented ingredient, Centella RX, which aims to soothe and shield the skin, plus Cicabond which repairs irritated and damaged skin. The third exceptional component in the serum is Jartbiome, or a unique microbiome complex which reinforces and brings great relief. Reviewers say it takes just a few weeks to show the effects, giving the desired comfort back. It's dedicated to sensitive, dehydrated and redness-prone skin, but brings benefits if you fight with rosacea or broken capillaries as well. Botanical ingredients in the formula are an asset.
5.

Skin Ceuticals Redness Neutralizer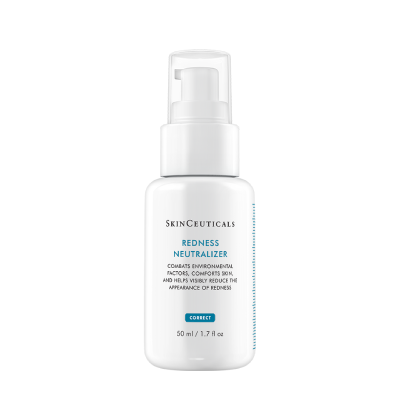 Skin Ceuticals Redness Neutralizer is a lightweight gel-cream. Even though it comes in a 1.67-oz bottle, it doesn't last long. We include it in our roundup after coming across some positive reviews. It has a good effect on delicate skin, conditioning and soothing it, strengthening the barrier, and lessening discomfort caused by redness. Regular use of this product evens the skin tone and lightens red splotches typical of rosacea. Skin Ceuticals Redness Neutralizer contains neuropeptides and long-appreciated natural ingredients like shea butter. Zinc sulfate takes credit for lessening inflammation.
6.

PCA Skin Anti-Redness Serum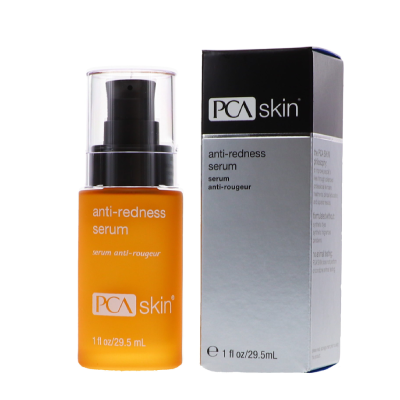 It's a pretty popular serum but reviewers tend to complain about a small size for a big price! Nevertheless, it's cut out for soothing irritated skin and quickly relieves reactive complexion, wiping the redness off. It also helps support extremely dry skin. PCA Skin Anti-Redness Serum contains unique ingredients like aldavine (algae complex), capparenole and bisabolol which reduce inflammation, repair capillaries and bring relief. It's a good pick for rosacea-prone skin.
7.

Hydropeptide Soothing Face Serum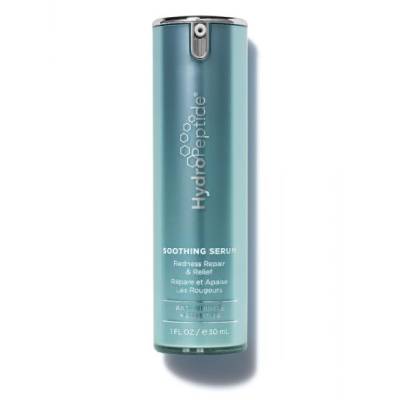 This face serum is recommended for sensitive, blushing, easily-irritated but also aging skin. The formula is rich in peptides and plant-derived stem cells which give desired relief to red skin. Hydropeptide Soothing Face Serum is pricey but it fulfils many tasks thanks to extra antioxidative properties. Regular use repairs the hydro-lipid barrier, not weighing down delicate skin. It's enriched with Telangyn™, a peptide for reducing redness.