Black soap. Contrary to appearances, it doesn't leave skin dirty. Instead, it enhances its appearance and condition. Just two ingredients are used for its production! Savon Noir Soap is a Moroccan natural cosmetic which tops competition in terms of effectiveness.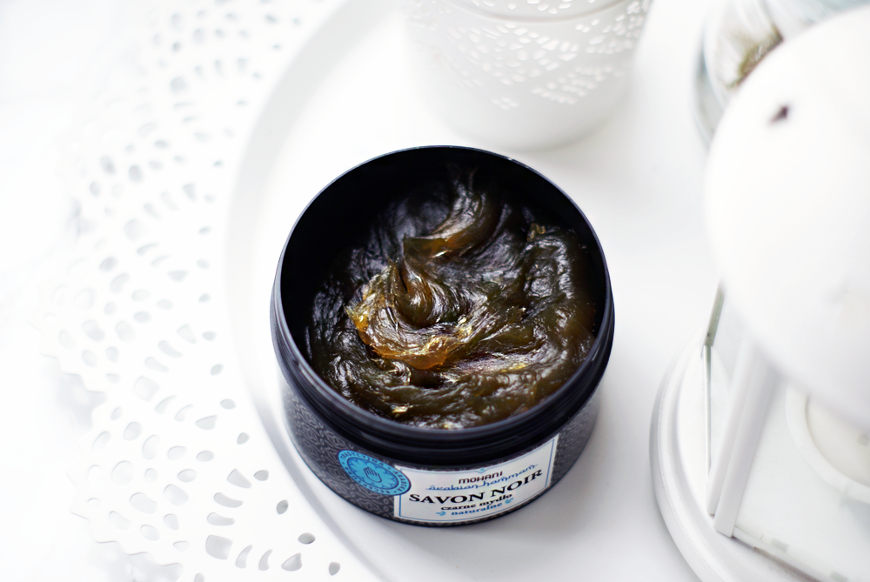 Amazed by the qualities of natural, cold-pressed argan oil, we started taking a closer look at the treasure concealed by Morocco. The result is discovering another natural cosmetic deserving a chance – Savon Noir Soap. It's been hand-made by Moroccan people for ages, using traditional methods. What is the black soap made of?
Savon Noir – two-ingredient soap
Even though it's hard to believe, black soap is made of only two ingredients. Original Savon Noir Soap is a combination of olive oil and black olives which give it an unusual color. It looks like a black paste. After mixing with water, it gets velvet-like and easily glides on skin, ensuring softness and smoothness. Similarly to other natural Moroccan products, you must be careful not to buy a fake. Carefully run through the list of ingredients before the purchase. Natural black soap is free from any preservatives, additional pigments or thickeners. It should contain nothing but olive oil and black olives. It's surely worth remembering.
Original Black Soap
It doesn't have the bar form of a traditional soap. It is a thick paste sold in handy jars. It is the result of the method of Savon Noir production. Olives and oils are boiled in huge vats. The water evaporates – a really thick pulp of characteristic scent is the result. That's the black soap. Interestingly, it's not actually black: its colors range from dark green to brown and burnt caramel. It depends on the type and quantity of olives used for the production of a given black soap batch.
Black Soap Benefits
It works like an enzymatic scrub, brilliantly removing dead cells and accelerating the natural exfoliating process. Skin is smooth and regenerates more quickly.
It effectively frees skin from build-up of impurities, toxins and sebum. Additionally, it protects skin by leaving a delicate, imperceptible lipid layer.
It softens and nourishes, transferring all nutrients from olives to skin. Thanks to vitamin E, it delays skin ageing and works as an anti-aging treatment.
It boosts skin moisture so it's recommended for very dry, acne-prone and vascular skin. Recommended by dermatologists as it doesn't cause dryness.
It helps get rid of comedones and acne lesions thanks to making skin perfectly clean, reducing inflammation which intensifies such problems.
Who is black soap recommended for?
Savon Noir Black Soap is an excellent choice for minimalists who like to cut down on the number of beauty products. One soap based on two ingredients is enough to care for the whole body skin, scalp and even hair. Who is Savon Noir Soap suitable for? It works for all skin types, even delicate and demanding baby's skin.
How to Use Black Soap?
As a face and body washing product (it lathers in contact with water).
As a shampoo: for washing hair and cleansing scalp.
As a hair-softening shave gel.
As a topical anti acne treatment.
As a cleansing and detoxifying mask for all skin types.
As an effective make-up remover (avoiding the eyes).
As a substitute of a scrub e.g. for feet or scalp.
Savon Noir Black Soap Reviews
Since the Moroccan black soap became such a thing, it's been getting more and more reviews. It turns out that some opinions are negative. The opinions on how the black soap works are divided – some users say it's a stunner, others think it was a bad purchase. The mixed feelings may result from being an unconscious customer. We buy and use cosmetics, ignoring the needs of the skin. The fact that the soap is all-natural doesn't mean it works for everyone. It may turn out to be a bad choice for very sensitive skin or skin which is prone to irritations and clogging. If you're allergic to olives, you can't use it.