Unfortunately, most of us can boast about having them. They usually haunt us after summer – apart from suntan, the sun leaves us with unwanted spots. Aging skin faces up to unevenly-distributed pigment. Acne leaves scars and discoloration too. How to get rid of the blemishes? Dare to meet the most effective treatments for anti-pigmentation spots.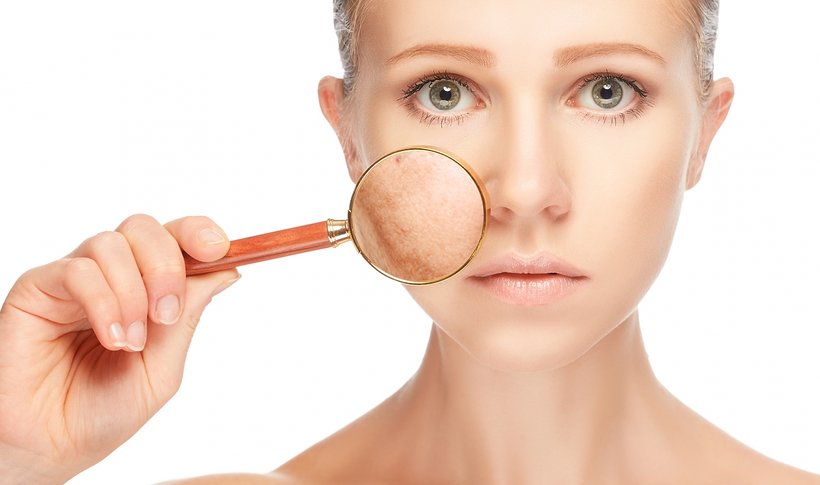 How to remove pigmentation spots? Products for home therapies
If you're bothered by fresh and quite shallow spots, you will easily eliminate them with the right products which brighten the existing spots and effectively prevent the occurence of new ones. It is extremely important because such blemishes tend to spread and move to larger skin areas.
Nighttime treatments
The effects are astonishing. The treatments usually feature various acids and retinol which don't like the sunlight.
Retinol night therapy
In order to actually work and brighten all kinds of spots, the concentration must be proper – from 0,25% to 1%. You can check that by looking at the list of ingredients on the packaging. Use a regular moisturiser or retinol serum. Because retinol may trigger allergies, introduce it gradually – two or three times a week; then, try moving on to every-night use.
Acid night therapies
The best effects are given by serums, ampules or creams containing ferulic acid, gluconic acid or azelaic acid. Check if a product is suitable for the nighttime therapy. Apply it like any other night cream, everyday, all year round – until you get the desired result.
Daytime therapies
Day creams must be milder because of staying in contact with the sunlight and radiation. That is why they have poorer whitening ingredients – thanks to that, there's no risk of getting new spots because of the sunlight. Such products may also contain retinol and acids but their concentration is much lower. Besides that, a quality brightening cream should be rich in high-factor sunblock (SPF 30-50).
Vitamin C treatments
Choose between creams, serums, ampules or emulsions containing vitamin C, that is L-ascorbic acid. Its concentration should range from 5% to 15%. Sensitive skin might be a bit rebellious if you apply products featuring vitamin C and A at the same time. Remember that you shouldn't apply vitamin C under the eyes, near the nostrils and corners of the mouth. Start off with a low concentration and gradually increase it.
Snail slime products
Have you heard that apart from wrinkle-smoothing and irritation-soothing properties, snail slime is rich in skin-brightening ingredients? A higher concentration equals a higher number of snail active ingredients illuminating the skin and upgrading effects. That's why you should go for a snail serum which contains the highest concentration of snail slime and works strongly.
Home remedies for pigmentation spots
Mulberry for pigmentation spots
Take a few mulberries and mix them with a teaspoon of lemon juice until you get a smooth pulp. Apply it exclusively to the spots and rinse after 10 minutes. Repeat every 2-3 days.
Rice for pigmentation spots
Rice toner excellently removes pigmentation spots. Pour half cup of rice with warm water (half inch above the rice level). Put it aside for a few hours and then pour the water into a bottle. You need to replace the toner with a fresh one after 3 days.
Parsley for pigmentation spots
Chop parsley and cook in a pot (around a cup of water). After 15 minutes, remove it off the stove and leave the mixture for the night. In the morning, pour it into a bottle and add a teaspoon of lemon juice. Use twice a day and make a new toner after 5 days.