Are you dreaming of a perfect, supply, smooth body with no trace of pimples, blemishes and dark spots? Are you aware of the great beauty benefits of honey? It has a soothing effect, boosts elasticity, and even helps get rid of different skin conditions. Try some DIY honey-based treatments!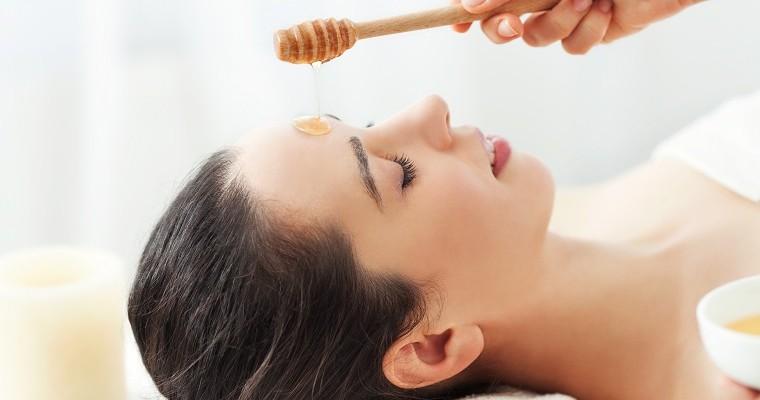 Natural honey-based treatments
A face mask is a hit among all honey-rich DIY beauty treatments. It's going to freshen up the most tired-looking face. Do it twice a week or even more often. Honey-based body scrubs and shine-boosting hair treatments make a perfect choice too. We also share a recipe for the sweet honey bath.
Honey-based lip scrub
Bothered by constantly chapped lips? Deal with the problem! Mix a teaspoon of honey with a half teaspoon of cane sugar. Smooth the mixture across the lips and massage them gently using a clean toothbrush. Once the sugar melts, wipe the excess off with a cotton pad.
Shine-enhancing hair treatment
Dissolve a teaspoon of honey in 1/4 liter of hot water and add some apple cider vinegar or grapeseed vinegar. Rub the mixture into the hair lengths and scalp. You can do the treatment once a week to see wonderful effects after just a few weeks.
Tried and tested homemade face masks based on honey
Clarifying face mask
Mix 3 spoons of cottage cheese, a spoon of cream and honey. Add beaten egg white if you like. Apply the pulp on the face and rinse after 15 minutes.
Nourishing face mask
Mix an egg yolk with a small amount of honey and argan oil to create thick pulp (it shouldn't run down). Leave it on the face for 15 minutes and rinse using lukewarm water.
Plumping face mask
Beat an egg white until stiff and add 3 spoons of honey and some wheat flour to get a thick mask. Enrich it with some argan oil. Smooth the mask over the face and let it sit for 25 minutes. Rinse using warm water.
Hydrating face mask
Mix a spoon of honey with grated apple. Apply the pulp on the face and put a damp gauze bandage on to secure it and keep it from running down. After 15 minutes, rinse the mask out using warm water.
Nourishing honey-and-milk bath
Take a bath in water enriched with honey to plump up the skin, make it more elastic and also fight all irritations. Keep the temperature up to 37 Celsius degrees. Treat your body to this relaxation bath twice a week.
How to prepare the nourishing honey bath? Mix two liters of high-fat milk (ideally 3.8% fat content) with approx. 200 ml of liquid honey. Make sure the milk is warm so it easily blends with honey. Enrich the mixture with some organic vegetable oil (almond oil, macadamia oil) or olive oil. Pour the blend into a bathtub filled with warm water and immerse for 15 minutes.