Hair is susceptible to weather conditions as well as to heating and air condition. Dried due to the sun and wind hair becomes brittle and unmanageable. Luckily, there are ways to improve its condition. In the first place it's worth reaching for cosmetics designed for intensive hair care, which are conditioners and masks. They have to match type of hair, and sometimes also hair colour. How do both hair conditioner and hair mask work? How to take care of damaged hair, greasy hair as well as thin and delicate hair? What beauty products should you use to treat blond, ginger and dark hair?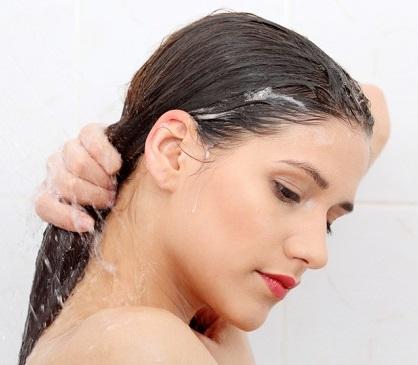 How does hair conditioner work?
Conditioner has to be applied after precise shampoo removal and delicate toweling of the hair. It shouldn't be massaged into scalp, and in the case of really long hair, this product should be applied to hair ends with special attention. Hair conditioner shouldn't be rubbed into hair but delicately patted into the strands.
How to apply a hair conditioner? It has to be evenly distributed along the hair length using a wide-tooth comb. Rinse the cosmetic after approximately five or ten minutes unless the producer recommend differently (there are super fast conditioners which can be removed after two or three minutes). In order to rinse conditioner, first use lukewarm water and then cool water to help the cuticle to close. If possible, let the hair be air dry.
How does hair mask work?
Hair mask should be applied once a week, especially if hair is damaged and dry. The main difference between hair mask and a conditioner/balm is that the former contains definitely more nourishing substances. It has to be put on hair right after washing the strands with a cleansing shampoo.
Hair mask's pH is rather high, which is why it opens hair cuticle and allows regenerating substances that the product contains to penetrate to the inner hair structures. Some masks require being warmed up because due to warmth their valuable substances are able to penetrate hair deeper. For better results, you can wrap the hair with foil or a warm towel.
When compared to conditioners, hair masks should sit on hair longer – in most cases, it's ten or twenty minutes. Naturally, there are also masks which produce the looked-for effect faster.
How to take care of dry and damaged hair?
The main problem touching dry and damaged hair is split ends as well as unruly and frizzy strands. To regenerate such hair you should reach for moisturising and regenerating conditioners which ingredients penetrate hair and supply it with the right dose of hydration. The state of dry hair can be improved with the aid with amino acids, vitamin B5 and proteins, keratin and cashmere. Moreover, products containing honey also help in such situation.
How to take care of greasy hair?
What's important, greasy hair shouldn't be additionally overburdened with nourishing products. Instead, you should treat such hair with delicate conditioners that don't contain any oiling substances. They have to be distributed along the entire hair length without the roots. In the case of seborrhea, it's a good idea to give a go to preparations including black radish extract, which displays anti-dandruff properties.
How to take care of thin and delicate hair?
If hair is deprived of volume and seems to be flat, you should try to find a product that will help you give your roots a boost. The best choice in this case is offered by light mists and leave-in mousses. It's a good idea to look for cosmetics containing keratin, vitamin H, herbal extracts and natural oils because such ingredients strengthen hair and leave them shiny.
Products to treat blond, ginger and dark hair with
Shampoos and conditioners recommended to a particular hair colour are supposed to boost hair shine and protect the colour. Cosmetics designed for blonde hair contain chamomile extracts and particles that bounce back light. When it comes to ginger and dark hair, you should reach for products containing bark of oak, yarrow or wild cherry, which are responsible for preventing hair colour from fading.