Do you have to stay home but you would do almost anything to enjoy a moment of total relaxation? The good news is that you don't need to visit a luxurious SPA to feel better. Let yourself indulge in luxury at your own home! Enrich your daily beauty routine with home SPA. That's simpler than you think!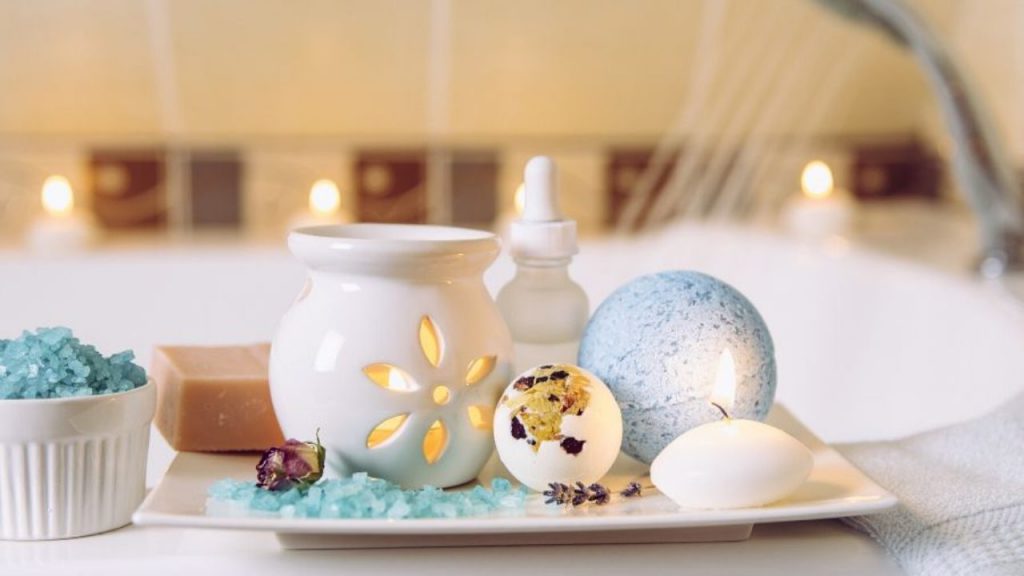 Each one of us sometimes needs a moment of tranquility and be worry-free, a moment when you can be on your own and take care of nobody but yourself. Normally, we lack time to focus on ourselves therefore such moments of relaxation and unwinding are the best present that we can gift ourselves with. Find out how to unwind yourself at home – the recipe for home SPA is simple.
Home SPA. Do it yourself!
If you think that arranging home SPA at home is a task that goes beyond your possibilities than you are wrong. You will need just a few things: a bath, a few candles and a free evening. The remaining equipment is just a matter of putting a few things together, which is pretty easy too. For example, if you add a few relaxing beauty treatments (best if done with DIY cosmetics) and if you take care of some good music than it may appear that your home SPA is more pleasant than the one you would have to pay for. Cheaper doesn't always mean worse!
You are the only one in charge to decide whether the idea for home SPA will be put into action. You are just a few steps away from a moment of deep relaxation. And here's how to take them.
How to prepare your own home SPA?
1. Arrange a free evening
Planning is important especially when you share the apartment with someone else – inform them that you're going to occupy the bathroom for a while. You can also plan to arrange home SPA on a day that you know you'll be alone so you will be able to relax without hearing this disturbing knocking at the door followed by "Are you finishing soon?"
2. Prepare your home SPA agenda
Don't leave the decision concerning the beauty treatments you want to expose your body to the last minute. Why is it so important? Because some home SPA treatments require you to prepare some cosmetics that you may not have at home. There are also some treatments that can be carried out using semi-finished goods, providing that you are in a mood for conjuring some magic and become a wizard and create some beauty products on your own.
Your home SPA agenda may include the following treatments:
intensive hair hot oil treatment
whole body skin exfoliation combined with massage
foot bath and delicate biological pedicure
hand smoothing treatment and manicure
face cleansing with natural oils
brightening up face mask
3. Make sure that the atmosphere at home is warm and relaxing
Home SPA can't be successful without the adequate lighting and relaxing music being played in the background. If you want to feel like in a genuine wellness center, you should play some nature sounds, e.g. a soothing sound of a stream that flows peacefully somewhere in the mountains. Put some living flowers in the bathroom, place some candles and lamp that gives you diffused light. The truth is, every tiny detail matters, even a soft towel.
4. Prepare a relaxing bath
Obviously, the key element of your home SPA is the bath – aromatic and warm that soothes your body and senses. Make sure that it's perfect by choosing the finest ingredients. Without doubt, there is more to bath than pouring some bubble bath. Home SPA requires something more than that. How can you accomplish that? For example, you can prepare your own bath bombs, you can also add some essential oils, throw some flower petals or herbs. And if you feel like it, take a milk bath!
Here are the coolest ideas for relaxing baths:
lavender bath – the easiest way is to add a few drops of soothing lavender oil or prepare an infusion made of dried lavender flowers that has to be poured to water bath; actually you can also prepare lavender salt owing to which your bath will give you this relaxing effect, soothe your mind and help you fight insomnia;
fir bath

– feel like in forest and prepare a bath that will make you feel incredibly well; the strongest antioxidative, antibacterial and rejuvenating effects are given by essential oils extracted from fir bud and its young needles. All you have to do is to prepare an infusion and add it to bathwater;

amber bath

– conditioning properties of amber have been known for centuries: it increases metabolic rate, boosts blood circulation and reduces swelling. The nourishing amber bath can be prepared at home by using energizing amber salt;

milk bath

– if you only want to, you can feel like Cleopatra and move to ancient Egypt for a while. How to do this? Pour a liter of full-fat milk (best if goat's milk) and add a small portion of moisturizing honey. If you want to, you can even throw a few rose petals.
5. Don't forget about aromatherapy
Aroma has an immense importance when it comes to creating the most favorable atmosphere for your home SPA. The great pleasure of SPA is brought to us thanks to the aromas that surround us during this evening. These are the elements responsible for soothing our senses, calming us down and putting us in a good mood. How to create such atmosphere? Add some essential oils to the bathwater, light some scented candles and candle chimney.