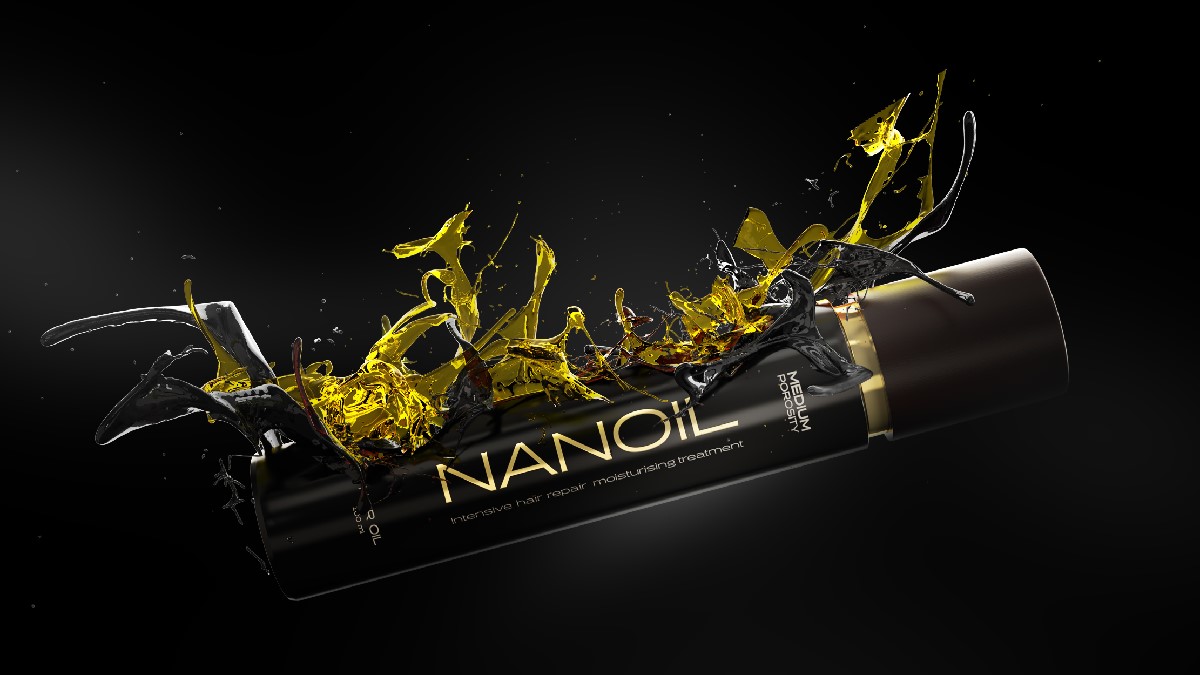 Healthy and beautiful hair is the desire of every woman. Strands are the basis of the female image. Each of us knows that it is not only the appearance of hair, but something much more important: a sense of femininity and confidence.
Hair is our weak point. To make it beautiful, healthy and well maintained, you should provide it with adequate care and deliver components that will support its healthy growth, rejuvenate and nourish from roots to tips.
The brutal truth is that, in general, majority of cosmetics do not work in hair regeneration. They do more harm than good, because they contain a number of dehydrating and damaging alcohols, silicones and parabens. Longer use brings only disappointment and significantly weakens the condition of the strands.
Fortunately, Nanoil brand decided to put an end to such misfortune hair care, creating a kind of an elixir of beauty. Nanoil is unique, innovative and aimed not only to improve the appearance of hair, but also to reconstruct and regenerate its structure. What is more, Nanoil used regularly thickens hair and boosts its growth. Your hairstyle gains incredible volume.
Nanoil – what does it look like?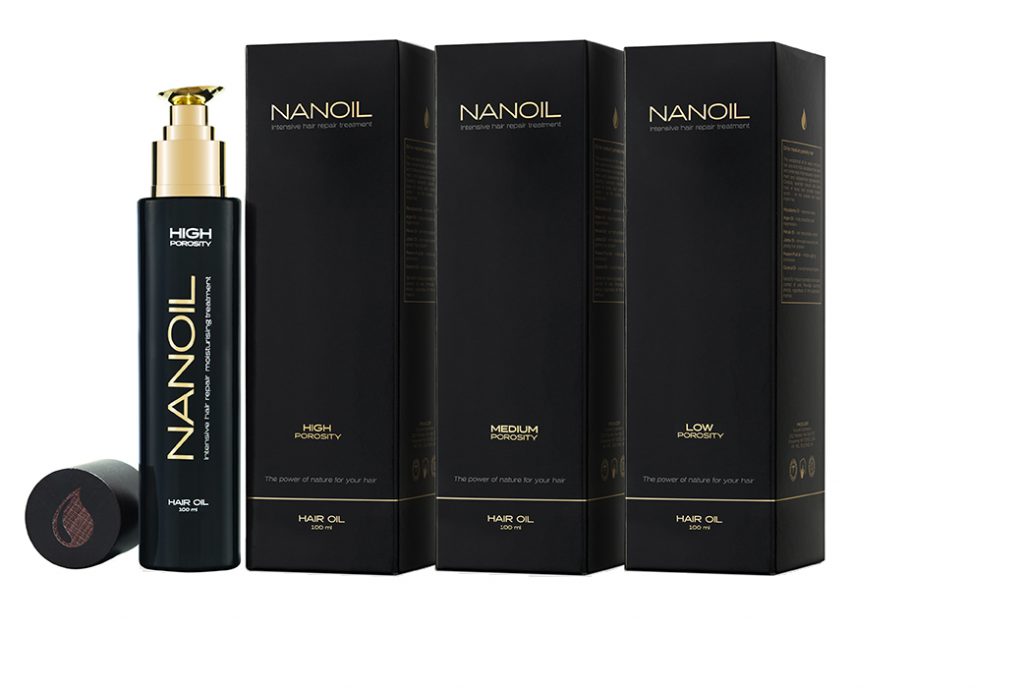 Nanoil a cosmetic that has been created with attention to detail. Its slim, elegant glass bottle with a cylindrical shape and black colour contains gold, beautifully fragrant essence, which consists of carefully selected natural oils and a range of natural nutrients and conditioners. Nanoil comes with a spectacular wooden cork with an emblem of embossed leaf. As a whole, it looks alluring and stylish. Nanoil is equipped with a very comfortable and elegant pump, which facilitates dosing the product.
Nanoil hair oil why is it so outstanding?
Nanoil brand realizes that each woman has a different type of hair, thus it developed the product in such a way that its composition and molecular structure perfectly matches to each of the three hair porosities. In other words, for each of the three types of hair. At the manufacturer's website you will find detailed descriptions about each porosity (high, medium and low) accompanied by high quality images. Therefore, you will be able to easily determine the porosity of your hair and also select the appropriate version of Nanoil.
Each of the three versions of Nanoil hair oil contain a number of nourishing ingredients – all combined in such a way to interact with the specific needs of hair. Its effects are primarily based on the power of natural oils, which are the best substances to nourish and regenerating hair. None of the selected oils found in Nanoil is there placed there accidentally: natural oils are harmoniously combine with the porosity of hair so their particles fit into their structure.
Nanoil results are also supported by a number of substances, without which hair becomes dehydrated, dull and begins to fall out. The most important ones include: lanolin, silk, keratin and panthenol. Thanks to those components, your hair will become beautiful as never before.
 Nanoil hair oil how does it work?
Each of the three versions Nanoil is safe, does not cause irritation or have comedogenic properties. Oil is free of parabens, silicones and alcohols.
You will be surprised how beautiful your hair looks thanks to treatment with Nanoil. The product beautifies and disciplines the strands from the first use. Thanks to a regular use of Nanoil, your hair will:
 be regenerated from the roots to the tips
 the keratin structure will be improved
 the defects on the hair surface will be rebuilt
 stop falling out
 start growing faster
 become thicker, dormant bulbs will begin to work
 will regain softness, elasticity and radiance
 Nanoil will slow the effects of hair ageing
 graying will be inhibited
 Nanoil will protect hair from damage
 Nanoil will protect hair from the sun
 Nanoil will prevent hair from frizz and static
 Nanoil will facilitate styling
 Nanoil will regulate sebum secretion
 Nanoil will balance the hair water and lipid
Nanoil hair oil how to use it?
Another of the undoubted benefits of Nanoil is that it can be used in many ways, and combining such methods of care provides an in-depth hair regeneration and beautiful appearance. You can determine which application method is best for you.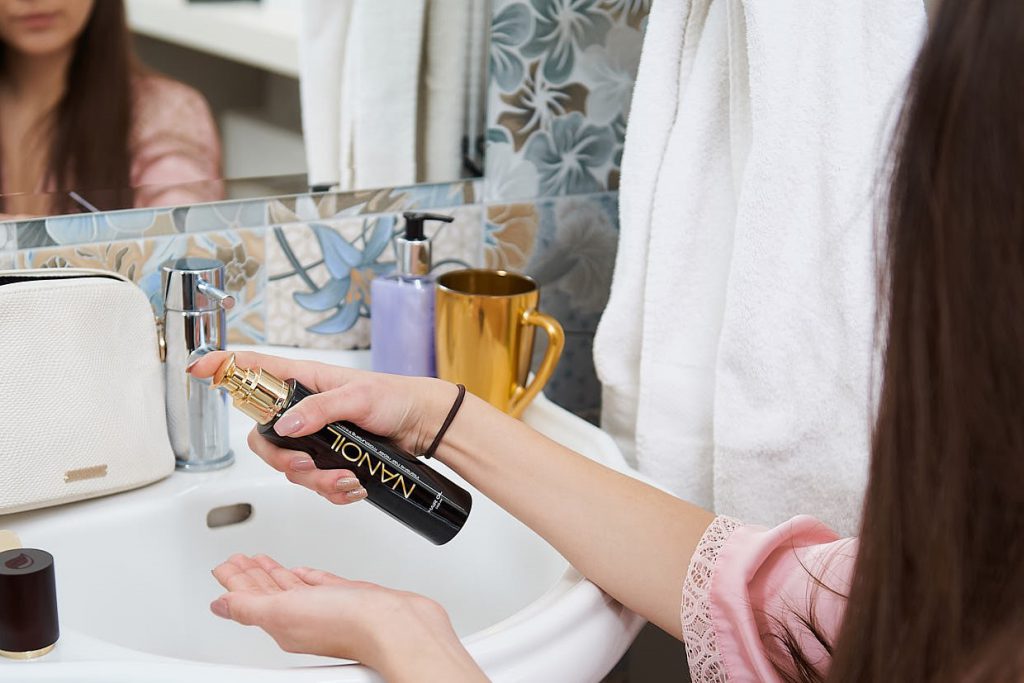 Nanoil is an infinite number of possible uses. Depending on what your hair needs, you can provide it with an in-depth regeneration and leave Nanoil on hair and scalp even throughout the whole night or simply apply it to dry strands to discipline them and enhance shine.
Nanoil will be great as a hair mask, as an addition to lotions and conditioners, as a serum for hair ends or as a rejuvenating emulsion used without rinsing. It can be used on both dry and wet hair… rinsed or not… nourish entire hair or only individual strands…
Its versatility and precision, and the synergy of high quality nourishing and regenerating ingredients make Nanoil an iconic cosmetic. Bravo, Nanoil!