Do you know which face serum is popular all over the world? Nanoil Retinol Face Serum is currently a top rejuvenating skin product. The majority of users said that they would recommend Nanoil serum to their friends, which proves how efficacious this product must be. Check out why Nanoil retinol face serum enjoys such huge recognition among women and learn the reasons why it deserves to have a special place in your bathroom.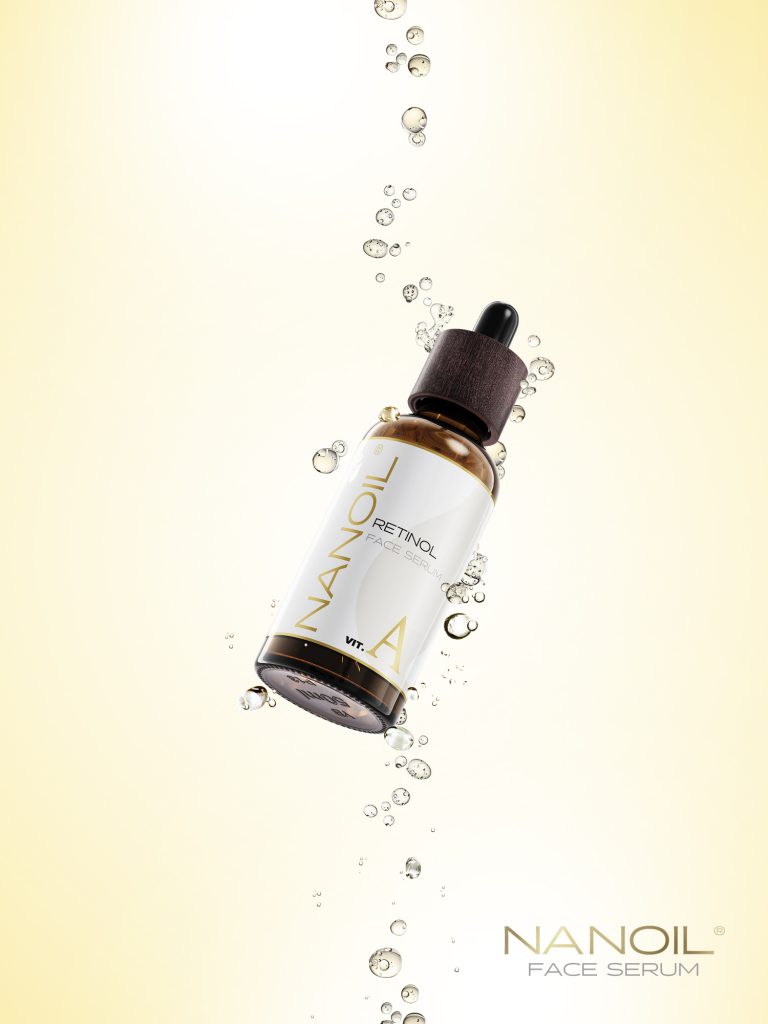 When is the best time for making retinol one of your skin ritual elements?
Retinol, also known as vitamin A, is a multi-tasking substance, supporting and promoting self-renewal of mature skin. It belongs to the group of the strongest cosmetic ingredients suitable for home use. Even though retinol treatments used to be available only in professional salons, the modern skin products are formulated with a substantial amount of vitamin A that on one hand delivers strong effects but on the other is safe for skin. When used regularly and correctly, retinol treatment breathes life into dull and tired-looking skin.
Facts about Nanoil Retinol Face Serum
WHAT'S NANOIL RETINOL SERUM?
It's an advanced rejuvenating face serum, able to stimulate cellular turnover, improves resilience, reduces wrinkles and pigmentation. Counteracts all signs of ageing.
HOW BIG IS IT?
A dark-glass bottle offers 1.69 fl. oz / 50 ml of the product.
HOW MUCH IS IT?
The price is attractive, and the serum is cost-effective.
WHAT SKIN CONCERNS DOES IT ADDRESS?
It's suitable for all skin types, mainly for mature skin. It deals with sagging, wrinkles and hyper-pigmentation.
WHICH AGE IS IT DESTINED FOR?
It's recommended for people in their 30s, 40s, 50s, 60s, 70s and 80s.
WHAT'S ITS TEXTURE?
It's a lightweight serum that doesn't clog skin, nor does it create an oily film on skin.
WHAT'RE ITS KEY INGREDIENTS?
It's formulated with the top-quality retinol boosted by a plant-derived antioxidant Punarnava (Boerhavia Diffusa).
How to apply Nanoil Retinol Face Serum correctly?
Retinol is known for inducing cellular turnover and removing dead cells from skin. When used on a regular basis, vitamin A reveals smooth complexion, free from imperfections and discoloration. To prevent it from delivering too strong exfoliating effect, it's suggested getting the skin used to retinol. How to do it? For the first two weeks apply Nanoil retinol face serum every other day, and in the case of hyper-reactive and sensitive skin, do it twice a week. This is how you safely introduce retinol to your daily beauty ritual. With time skin will learn how to work with vitamin A, and when this happens, you can start applying retinol face serum on a day-to-day basis.
Effects of Nanoil Retinol Face Serum
This anti-ageing face serum from Nanoil:
✓ counteracts saggy skin by improving resilience.
✓ revitalizes skin and evens its tone.
✓ reduces wrinkles and leaves skin smoother.
✓ erases acne and discoloration.
✓ has a mild exfoliating effect, thus it takes part in cellular turnover.
Comments on retinol face serum from Nanoil
As mentioned above, Nanoil vitamin A face serum is currently one of the best-selling and top-rated anti-ageing serums. Women recognize it for the stunning effects, attractive price, big size, high quality and safe ingredients. If you would like to learn more about the product and read testimonials, visit nanoil.co.uk, where you can also order Nanoil Retinol Face Serum with convenient home delivery.