How often do you use a dryer? You think you should cut down a bit? Not at all! A blow-drying routine doesn't have to be bad for your hair. Following a few simple rules and getting one item are all you need. We'll share more of the nitty-gritty in a moment. Now let us present a Nanoil heat protectant spray which takes a few seconds to start guarding your tresses against the heat!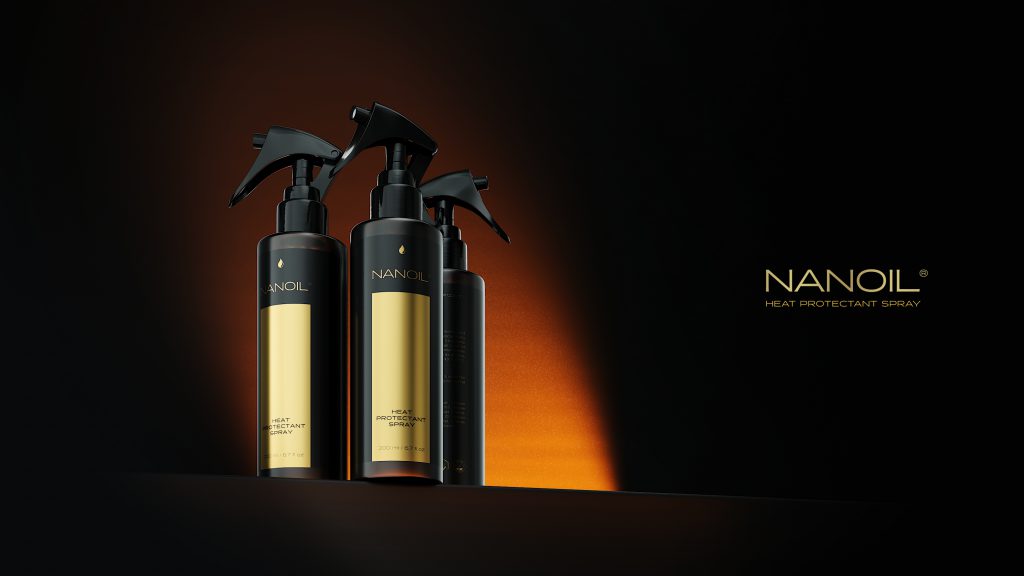 Is a dryer bad for your hair?
It's a tricky question and there's no straight answer. Merely drying the hair isn't harmful. It's the heat that causes damage. It turns out we can blow-dry the hair even every day damage-free but we need to remember about a few super-important rules:
Firstly: always use a cool airflow, never hot. This way you keep the cuticles sealed and protect them. Some dryers are equipped with a heat control which matches the temperature to our hair. We recommend such devices the most.
Secondly: dry the hair following the direction of hair growth –  start from the roots moving downwards. Don't aim at one area for too long. Hold the dryer around 8 inches away from the scalp – not closer!
Thirdly: always apply a suitable heat protectant before you take hold of a dryer. It's the only way to save your strands from the high temperatures. A Nanoil Heat Protectant Spray is a top pick among shoppers. Let us tell you more about the product.
Nanoil Heat Protectant Spray – Best Product for Hair Protection
PROTECTION: protecting the hair from high temperatures (even 430℉/220℃) is its main job of course. No matter if you use a cool or hot airflow, the product works as strongly. You can even use it prior to straightening, curling or crimping.
EXTRA BENEFITS: Protection matters the most but the Nanoil spray does much more. It brilliantly repairs the hair so it looks much better. It's sleek, glossy and even nicer to the touch.
CONSISTENCY: It's easy to apply and doesn't weigh down or make hair sticky. To be honest, it sinks in immediately and doesn't take any volume from the hair.
BOTTLE: the product comes in an easy-to-use bottle with a convenient spray. It looks elegant with the gold-colored elements. We can see the amount of the product that is left.
HOW OFTEN TO USE: you should use it every time before you blow dry or heat-style your hair. If you do it every day, then use the spray as often. It won't weigh hair down.
AVAILABILITY: finally, we'll tell you about the best buying option. The product is available on many websites but we recommend getting it from the official Nanoil store: www.nanoil.co.uk
Remember to follow the rules we told you about and use the miraculous thermal protection spray from Nanoil – enjoy a lovely hairdo despite daily blow-drying or heat-styling routine!