Finding the right mask that doesn't leave you with limp and shine-deprived hair isn't simply as ABC. Most products chosen randomly actually don't do much. Instead of moisturizing and giving you a voluminous mane, they rather make hair dull, rough and awfully unmanageable. Therefore, if you got lucky and already found the mask that improves your hair's appearance – hats off! But if you haven't found such a product yet, you may be interested in what we prepared for you. We're putting forward a few suggestions, which are…
Four Best-Selling Hair Masks That Suit Every Pocket!
1. Nanoil Keratin Hair Mask
Size: 300 ml / 10.1 fl. oz
Key ingredients: hydrolyzed keratin, panthenol
Website: nanoil.co.uk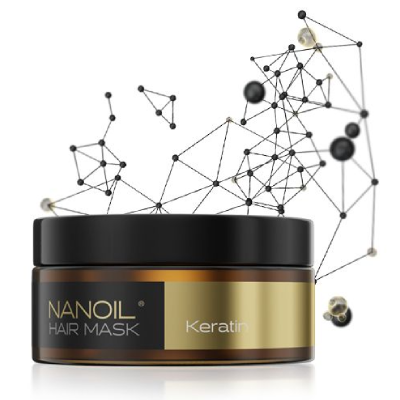 The best keratin-rich hair mask. Perfectly suitable to satisfy the needs of all hair types. Ideal even for thick and heavy strands. Nanoil Keratin Hair Mask provides intense hair repair for immediate appearance improvement. Positive reviews given by the users prove that Nanoil Keratin Hair Mask works as expected: it strengthens the hair, fixes micro-damage and adds shine. It also promotes smooth and elastic hair. Long-lasting, lightweight and unbelievably effective – Nanoil Keratin Hair Mask must be taken into account if you think seriously about having fully repaired and amazingly-looking hair.
2. Keune Care Keratin Smooth Mask
Size: 500 ml / 16.9 fl. oz
Key ingredients: keratin, pro-vitamin B5, shea butter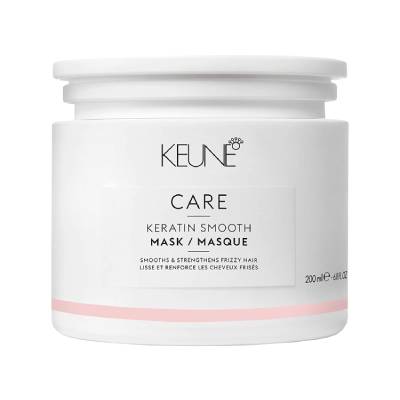 Big size and a big price are the very first two things you notice while looking at this product. Keune Care Keratin Smooth Mask is definitely one of the best-selling hair masks that gained huge popularity, hailed as amazing treatment for damaged and dehydrated hair. It'll help you if you need to replenish the strands with water and nutrients, meaning that it's ideal for frizzy and unruly strands. Shea butter, that the mask is formulated with, is known for being perfect for high porosity hair. At the same time it means that those with thick and heavy hair must be careful because the mask may cause significant volume loss.
3. Kiehl's Olive Fruit Oil
Size: 250 ml / 8.45 fl. oz
Key ingredients: olive oil, avocado oil, lemon oil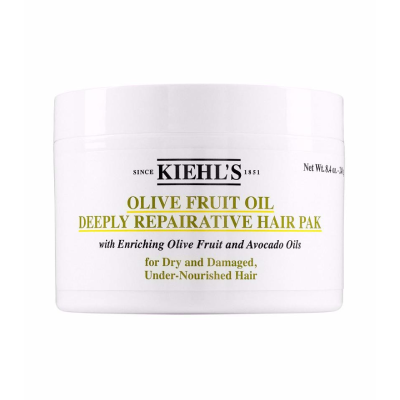 Another amazing and efficacious hair mask designed to save dry and fine hair prone to losing volume. Formulated with olive oil and avocado oil, Kiehl's Olive Fruit Oil is perfectly able to deeply moisturize and nourish the poor-looking strands. This emollient mask adds more body to the shafts, leaving them also shiny. You can use it just once a week, but if you consider the hair damaged, you can apply Kiehl's Olive Fruit Oil even twice a week. In this way you will keep your hair protected from further damage and splitting.
4. Davines NOUNOU Nourishing Repair Mask
Size: 250 ml / 8.45 fl. oz
Key ingredients: jojoba oil, tomato extract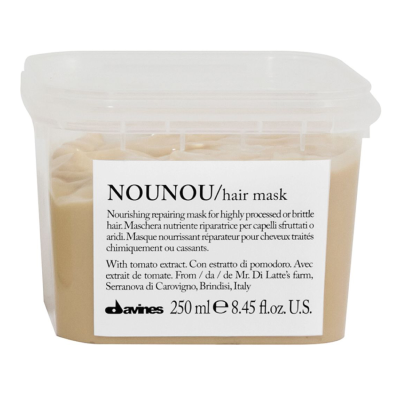 This ordinarily-looking nourishing Davines hair repair mask appears to be a truly unique cosmetic. Apart from improving the appearance of weak hair in a really quick manner, it also focuses on reversing damage caused to the inner hair structures. When used on a regular basis, Davines NOUNOU Nourishing Repair Mask strengthens the hair, thus combating brittleness and splitting. It seems to work best on weak hair that is regularly exposed to chemical treatments such as dyeing and perming. If you want to keep your hair smooth, shiny and protected from UV, this mask is your go-to.