Many people wonder what floral water is and why is it so popular, praised and most of all is it better than the toner? Is it worth to switch up your toner for floral water? Check out below which one of them will win the battle and how the two of them are different since their use is practically identical and the effects we expect are similar.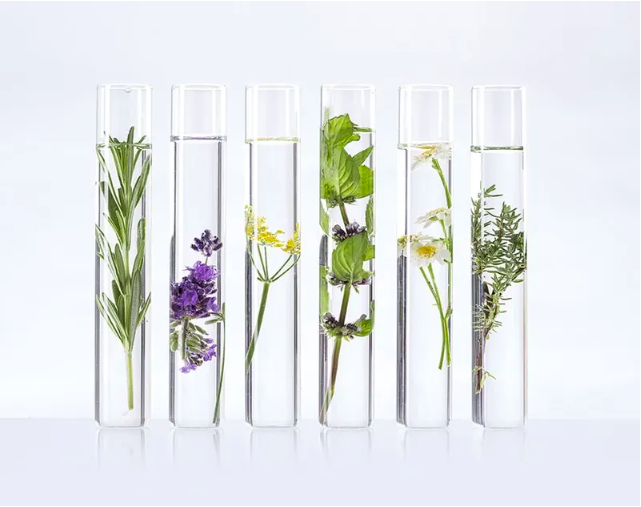 Toner and floral water – properties and action, common features
The properties both hold are similar and are used for the same purpose. Those cosmetics:
balance skin pH,
help get rid of pollution from the skin surface,
soften the epidermis and prepare the skin for following treatments,
calm irritation, moisturize, mattify or make skin glowing,
deliver nutrients,
make application and absorption of oils easier.
What is face toner? Properties of the toner
The toner is a water-based liquid but its composition is way more complex. Among its ingredients, you will find components with conditioning properties. Usually, those are plant extracts, oils, various active substances, vitamins, pigments, preservatives, and unfortunately fragrances. Often the component found in the toner is glycerin and in those less natural – alcohol denat.
Why do we use a toner? Its task is to strengthen the skin, moisturize, nourish, and obviously improve skin appearance.
Most toners have also calming and moisturizing properties. However, the most important action is to restore the skin with proper skin pH. Most toners have pH 5-6. Another important feature of the toner is to remove the pollution and mess that the make-up remover or gel couldn't.
What is floral water? Floral water properties
Floral water is not considered ready cosmetic but more as a semi-product that can obviously be also used as an individual product.
Floral water is a 100% natural product. It is created in the process of distillation of plants with steam (usually leaves and flowers). The main product of distillation is an essential oil and as it turns out in the process the water used for it gains properties of the plant that was distilled. This way a perfect and fully natural plant-based toner with just one ingredient is created.
Floral waters have properties similar to essential oils but are gentler to the skin and contrary to the oils can be used without thinning it. What is more, contrary to essential oils, floral waters do not trigger the allergic reaction and have a more subtle smell.
Toner or floral water – what to choose?
Floral water is used not only as an individual cosmetic but can also be added to cosmetics such as cream and can replace the water phase in cosmetics. Floral waters are also great for face masks with clay. This versatile use makes floral water more than just a toner. Its a versatile and universal cosmetic with perfect action. Floral water is often used as a refreshing mist with properties of a toner. The floral water used this way restores skin with proper pH, softens the skin, calms irritations, and inflammations are antiseptic, moisturizes, and nourishes.
The toner is water plus enhancing and conditioning ingredients for the skin. Toners often contain alcohol, but also synthetic components.
That is why you need to keep in mind that it can irritate the skin, cause allergic reactions, or even clog pores.
When buying a toner you need to pay a lot of attention to its composition because it often contains harmful ingredients for the skin, strong fragrances, and substances that can cause redness, clog pores, or worsen the acne.
However, if your face toner is safe and natural, you don't need to switch it for floral water. You can then use floral water as a component of homemade cosmetics or use it for body and hair.