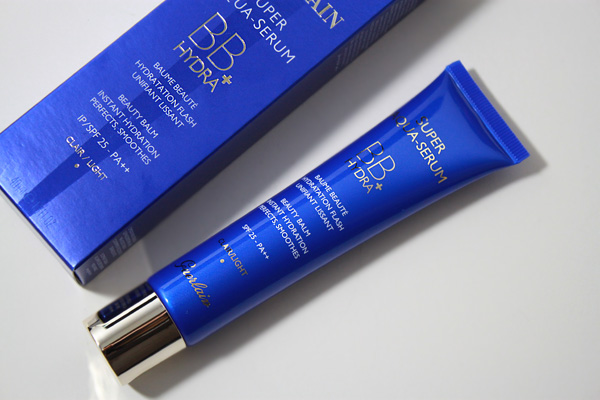 'Beauty Balm,' this is how the abbreviation of BB creams tends to be decoded. What does it mean? Basically, BB creams are here to take care of face skin. More precisely, these even skin tone, camouflage skin imperfections, smooth wrinkles, moisturize, and can successfully replace a make-up base. Obviously, BB creams are just a part of the cosmetic ABC. The market is full of other creams, which take over the features of their predecessors. For example, CC creams have the properties of BB creams but additionally, these are able to eliminate the signs of skin aging. Consequently, DD cream works similarly to CC cream, therefore, it is recommended for mature skin. Moreover, the market offers yet another product, this time EE cream, which generally speaking, accumulates all the previously mentioned features.
Having this in mind, what can Guerlain Super Aqua-Serum Hydra BB+ offer? Firstly, let us take a look at the package. The cosmetic is put in a blue tube of 40 ml capacity. The tube, in turn, is placed in a cardboard box of the same colour. After taking the tube out of the box, we can notice that the product is tamper-proof. As a consequence, we are sure that not only nobody has used our purchase or destroy it but also we are convinced that the cream is fresh and we are free to apply it without hesitation on the face. The fact, the product is packed into the tube has yet another advantage. Definitely, we are going to consume it in full. Additionally, the great applicator eases product's distribution.
Super Aqua-Serum Hydra BB+ from Guerlain is equipped with SPF 25 sunscreen. Obviously, this component provides all users with the proper protection from the sun and sun-inducted pigmentation. As a make-up cosmetic, gives medium imperfections coverage, holds for long, and blends with other colour and care cosmetics excellently. Quite impressive, after application of Super Aqua-Serum Hydra BB+ face skin is soft and smooth in touch. What is more, complexion looks very natural and does not evince any mask-like effect. What can be also added, Super Aqua-Serum Hydra BB+ from Guerlain moisturizes and beautifies skin. Having light consistency is easy to apply on face skin.
When it comes to the composition, this product comprises of glycerine, clay, castor oil, lanoline, plant extracts, and highlighting substances such as iron oxide or titanium dioxide. One thing that can be perceived as a drawback of the product, it contains also several irritating substances like alcohol derivatives and PEG. Fortunately, the product is completely paraben-free.