Apple cider vinegar is at nearly every kitchen, hiding somewhere in the cupboard. Surprisingly, it might be useful both in your kitchen and bathroom because it works flawlessly on hair and skin. Apple cider vinegar abounds in vitamins, minerals and natural antioxidants which have an amazing effect on the condition and appearance of hair and skin.
In comparison to popular spirit vinegar, apple cider vinegar has a delicate taste and smell. This is what makes it a good beauty product. Moreover, it is a rich source of vitamins, minerals and substances that heal and soothe skin irritation as well as enhance hair shine.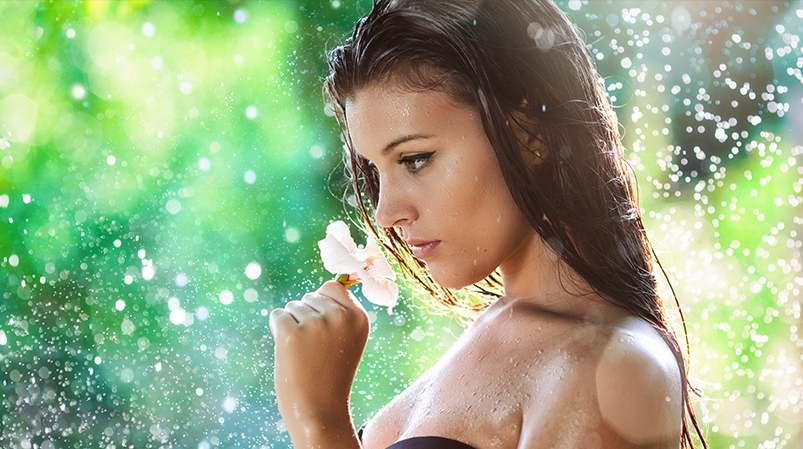 Apple cider vinegar – ingredients
vitamins: A, B, C, E, P;
minerals: potassium, sodium, silicon, magnesium, fluorine, chloride, iron, copper, phosphorus, sulfate;
organic acids: lactic, acetic, citric;
antioxidants: vitamin E and beta-carotene.
Apple cider vinegar is an all-natural, safe and mild product, an ideal cosmetic. Use fine-quality, ideally organic vinegar.
Apple cider vinegar – properties
Cider vinegar has qualities appreciated by those whose skin is problematic, oily, acne-prone and combination. It is also brilliant when you deal with broken blood vessels. The secret lies in the choice of the right concentration of vinegar.
Apple cider vinegar is a perfect remedy for acne skin. It prevents the occurrence of new skin lesions, controls oil production so the skin isn't unhealthily shiny. That's not the end of the benefits, though. It gently exfoliates dead cells, freshens up, purifies skin. Apple cider vinegar reinforces blood vessels and excellently smoothes out skin, leaves a matte finish, makes pores less visible, brightens skin and helps get rid of pigmentation spots.
Apple cider vinegar face toner – effect
strengthens skin's protective layer;
moisturizes and saves from extremely dry skin;
holds back inflammation;
has an antibacterial effect.
How to use apple cider vinegar facial toner?
Vinegar toner is the easiest DIY face-enhancing mixture: mix vinegar with boiled or filtered water. If your skin is oily, combination, acne, the right ratio is 1:2. On the other hand, if your skin is dry, sensitive or you struggle with broken blood vessels, start by mixing water with vinegar in a 1:4 ratio; use it every morning and evening.
You can keep it in the fridge but you don't have to because vinegar has preservative properties.
Apple cider vinegar on hair
Cider vinegar has a brilliant effect on both condition and appearance of scalp and hair. Used as a hair rinse or scalp treatment, it brings you lots of benefits. Discover the hair benefits of apple cider vinegar.
Effect of apple cider vinegar on hair
closed cuticle scales for smooth, shiny, soft hair;
easier brushing routine;
stronger hair bulbs;
reduced hair loss;
pH balance;
hair curl definition;
clean scalp, lifted hair roots;
control of oil secretion and freshness;
reduced oiliness.
While making apple cider vinegar hair rinse, the procedure is similar – mix it with water. One spoon vinegar is a recommended dose for one liter of water. Use apple cider vinegar once or twice a week for final rinse. You don't need to rinse hair with water afterwards.
You may as well add some vinegar to a bath if you're bothered by body acne – it is going to fight pimples as well as eliminate all post-acne and post-sun spots by genty brightening skin. Apple cider vinegar restores proper pH so it reinforces skin's protective layer. It is one of the cheapest and most brilliant body, face and hair products.
Apple cider vinegar for hair & skin – opinions
There's a reason why apple cider vinegar gets such raving reviews from bloggers, vloggers and hair care lovers. It is a superb hair conditioner and a toner healing and enhancing skin repair. This multi-functional, natural, effective and budget cosmetic is bound to steal your heart as well. Check how beautiful your hair can be thanks to simple apple cider vinegar. Lots of companies offer ready-made hair rinses and it's not just apple cider rinse. Try Yves Rocher raspberry rinsing vinegar, for example.