Benefits of saunas for body and soul are known to everyone. Finns even think that sauna heals both body and soul, pushing anger and bitterness away. Health, soul… what about good looks? Does sauna have a beautiful, feminine side? Of course, it does. Check how sauna works on hair, skin and how to make use of it for beauty purposes.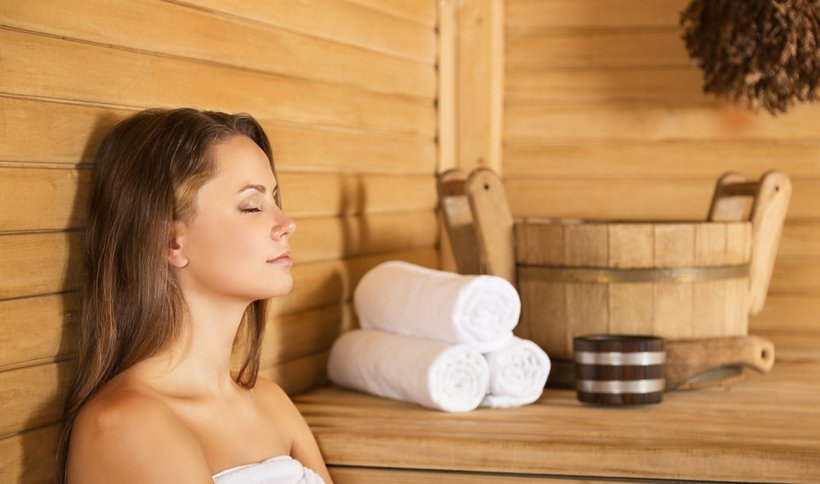 Finland is the mother land of sauna. No wonder the biggest number of saunas is located there – they are built even in the Parliament. Finns use them several times a week and strongly believe that nothing benefits their health, beauty and mood as much as saunas and 120°C. It turns out that our bodies feel… surprisingly comfortably in high temperatures. How sauna affects our good looks and what happens to our skin and hair while visiting Finnish baths?
Sauna – how it affects beauty?
1. Saunas Beauty Benefits – Skin Detox
In high temperatures, the body produces sweat – it is a natural defensive reaction to this kind of extremum. It is important that together with sweat the skin frees itself of all toxins and metabolic waste. Impurities are removed with sweat. Sebaceous glands are unblocked so the body throws out the sebum excess and… salt which we tend to overuse in a daily diet. Not only do we free the body of harmful substances but also enhance blood flow and smooth the skin. Thanks to that, we're not bothered by open pores, blackheads and other blemishes as often whereas the skin is elastic and smooth.
2. Saunas Beauty Benefits – Loss of Weight
Because blood flow runs more smoothly and the blood vessels widen (even in deeper skin layers) while you're in a sauna – the metabolism is more intensive, burning the fat tissue. Many people treat sauna sessions like passive exercising because it is possible to burn 900-2400 calories during one sitting.
3. Saunas Beauty Benefits – Fighting Cellulite
Cellulite is an unevenly distributed fat tissue which builds under the skin and blocks the blood flow – sadly, it makes it easier for unwanted metabolic waste to settle in thighs and on belly. A high temp in a sauna makes blood circulate more quickly and causes a king of lymphatic drainage which both removes the waste and supports the reduction of cellulite. Sauna intensifies the effects of many salon anti-cellulite treatments.
4. Saunas Beauty Benefits – Get the Commercial-Girl Hair
Sauna gives incredible hair benefits, too. Above all, the detox and high temps help regulate sebum secretion and block oiliness. Moreover, saunas free hair and scalp of toxins and keep some substances from building on hair roots (e.g. cosmetics residue and keratin which may hinder hair growth). In order to make the most out of sauna, apply a natural hair oil. The heat activates the molecules of oils and enhances the absorption of nutrients into hair. In this way, you intensify hair repair and speed up the hair renewal cycle.
5. Saunas Beauty Benefits – No More Wrinkles
Not only does sauna remove toxins but also stimulates skin functions and reinforces skin blood circulation. As a result, skin cells are more active whereas the ageing processes are slower. Thanks to that, wrinkles come later, your skin gains suppleness, bounce and a nice tone; there are no pigmentation spots. Regular sauna sessions slow down skin ageing processes.
6. Saunas Beauty Benefits – Oxygen Boost for Skin
The better and stronger the blood flow, the higher the level of oxygen. A high temperature in a sauna opens pores and makes the body absorb nutrients more easily and quickly, getting rid of toxins at the same time. Provided with sufficient oxygen, the skin is not as flabby and doesn't undergo unfavourable changes so quickly. Also, it has the right level of moisture and doesn't give in to the passage of time: it is much more resilient and supple.
7. Saunas Beauty Benefits – Say Goodbye to Sebum Build-Up
Because the skin gets rid of toxins in a sauna – the level of sebum drops drastically. Its excess is removed with other harmful metabolic waste. Thanks to the balance of sebum, your skin keeps hydration and isn't affected by lesions, pimples, blackheads, milk spots, etc.
Sauna Beauty Benefits
oxygen boost for skin,
better skin blood flow,
sebum balance,
better condition of hair and bulbs,
removal of toxins,
increased sorption of nutrients,
quicker loss of fat tissue,
easier fight with cellulite,
delayed skin ageing,
stimulation of endorphins,
an even skin tone,
preventing skin lesions and pimples,
skin tightness and elasticity.