Honey tastes good, has health benefits and great effect on skin and hair, and that's why it's popular in gastronomy, pharmacy as well as beauty care. What are the beauty benefits of honey? We present the best recipes for DIY honey-rich cosmetics.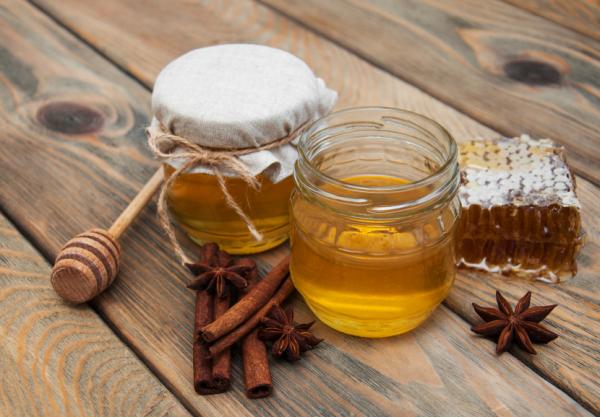 Cosmetic properties of honey
The fact that honey is a healthy substitute for popular sweets is commonly known. Being a tried and tested home remedy for a cold is also known to all of us. On the other hand, there are lots of things that we don't about this substance, e.g. its ability to accelerate skin healing, prevent scarring and eliminate bacteria, fighting skin blemishes such as pimples. Also, it has moisturising effect on both skin (even callused skin on heels) and hair. Honey is suitable for all skin types but it is strongly allergenic so you must do a patch test on hidden skin area before use.
Recipes for homemade honey beauty products
Since honey has remarkable effect on skin and hair, it's little wonder that it's used for cosmetics designed for skin and hair care. Pure honey or royal jelly (propolis) are used for this purpose. Honey and propolis are common ingredients in both ready cosmetics and homemade products. Take a look at some of them.
Honey hair conditioner – recipe
What to prepare? Honey, of course. Half of cup will do. Besides that, you need olive oil (1/4 cup) and freshly-squeezed lemon juice (half cup).
What's the procedure? Mix all ingredients to get smooth mass. Apply the mixture and massage thoroughly into hair throughout its length. Put on a shower cap and rinse with cold water after 30 minutes.
Honey lip balm – recipe
What to prepare? Honey (1 teaspoon), grated beeswax (half cup), vitamin E oil (2 drops), coconut oil (1/4 cup) and lemon juice (10 drops).
What's the procedure? Mix all components. Pour the smooth mass into small containers and put aside for several hours. After that time, the lip balm is ready for testing. Store it in a cool place to keep it from melting.
Honey face moisturizing mask – recipe
What to prepare? Honey (2 spoons) and milk (half cup). What's the procedure? Mix the ingredients and apply to skin on face and neck. Rinse the mask using warm water after 20 minutes.
Honey anti-cellulite scrub – recipe
What to prepare? Honey (half cup) and coffee grounds (1 cup). What's the procedure? First, pour boiling water over coffee and drain the grounds after a few minutes. Add honey when they're still warm and mix well. Apply the scrub to damp skin areas affected by cellulite and then wash it off using a mild soap, ideally one made of natural oils.