Green, fleshy leaves of this evergreen plant hide the incredible power of valuable elements. It can be said that there is nothing that is able to condition skin as aloe can – there is no other plant displaying such outstanding beautifying properties. It is definitely worth putting a pot with aloe on a windowsill or at least getting pure aloe gel from a drugstore. How to use aloe gel in skin care? How to apply it to face? It appears that this precious gel offers multitude of applications and beauty benefits.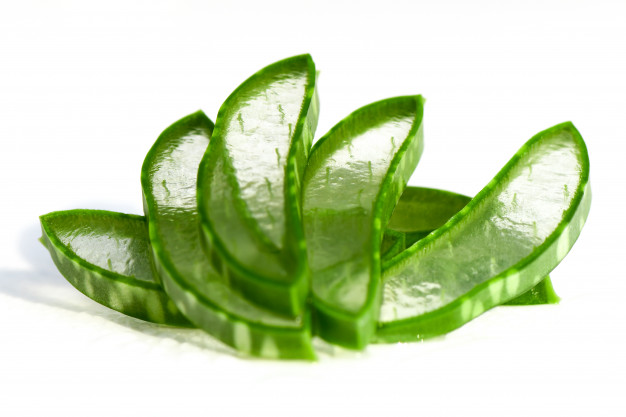 Aloe – Beauty purposes
Aloe is a rich source of vitamins, minerals, amino acids, fatty acids and enzymes. Flesh extracted from aloe leaves displays soothing, anti-inflammatory and moisturizing properties. The very leaves are the source of aloe gel that is recognized by many as an indispensable natural cosmetic. Here are its most important properties:
effectively (and for long) replenishes skin with water;
relieves all kinds of inflammation and irritation;
perfect for being applied to tanned skin to soothe the skin after long sun exposure;
reduces and relieves itchiness as well as skin redness;
alternative to body balm applied after shaving;
reduces swelling;
can be used as eye serum (moisturizes and reduces dark circles);
facilitates skin self-renewal processes;
is a source of precious nourishing substances;
deals with acne;
penetrates skin fast and combats roughness;
highlights discoloration and other skin blemishes.
Aloe for skin. Which skin type is aloe destined for?
Actually, aloe can be applied to all skin types because the gel extracted from this evergreen plant is lightweight and fast-absorbing; and even oily skin type requires moisturizing. Aloe also combats the problem of dry skin, irritations and redness. It fights back acne too.
Moreover, aloe serves its purpose when you want to accelerate skin self-regenerating process, highlight sun-induced pigmentation marks, eliminate post-acne marks, soothe allergic reactions of skin. Also, it's found perfect in bringing relief to skin that lacks sleep, is swollen, fatigued and dull.
Aloe can be applied to all skin types and at all ages. Its strongly moisturizing properties will be appreciated by each skin type, especially dehydrated skin.
Furthermore, acne-prone skin is another type of dermis that benefits from the positive action of aloe. Couperose skin treated with aloe gel will be soothed and relieved. It should be also mentioned that this plant does not display comedogenic properties therefore people with tendency to clogged skin pores can use this natural cosmetic freely.
What face skin problems are solved thanks to aloe?
dry, dehydrated skin,
deprived of elasticity, flabby skin,
irritated, reddened,
puffines,
acne,
dull and fatigued skin,
post-acne marks and sun-induced pigmentation marks,
wrinkles.
How to apply aloe to face?
The easiest way to apply this green plant to face is really… direct: just cut out a part of aloe and start gliding the flash over the skin. Another form of this plant is gel that can be bought in a drugstore. How to use aloe gel?
Aloe gel as face cream
This plant can successfully replace face cream, or rather work as a oily-free gel. You can use an enriched gel bought in a drugstore. This product deals with skin dehydration and supplies face with nourishing substances. Also, aloe is anti-inflammatory, soothes skin and protects it against damage.
As mentioned above, aloe can be used without bothering that our skin pores might get clogged, which makes the perfect choice for problematic skin type. It is worth bearing in mind that pure aloe gel offers one of the best eye skin treatments.
Aloe as a base for natural beauty oil

Aloe gel works fine as a base applied before putting on a vegetable oil. When used together with natural oil, you aid skin in receiving all the precious substances that the oil has. Additionally, you will take care of skin hydration and protect it against damages caused by the sun, toxins, freezing weather, etc. Moreover, aloe makes oil less heavy and less comedogenic. Also, owing to aloe gel, skin absorbs natural oil definitely faster.
Aloe as face cream primer
Aloe gel boosts the effects produced by face cream. Basically, aloe also helps to replenish face with water, therefore if you look for hydration boost, you can use aloe gel as a face cream primer.
Aloe to treat acne and other inflammations
Soothing and anti-inflammatory properties of aloe will be found indispensable when it comes to curing various types of skin lesions: acne, papulopustular eczema and other kinds of inflammations that might affect skin. In such cases it is better to reach for fresh aloe growing in a pot. Just cut out one leaf and press the aloe flesh to the skin lesion. Do not apply aloe to open wounds.
Aloe as face mask
Aloe gel is also highly recognized as a constituent of many face masks, thus it can be added to almost all of them. For example, it mixes well with clays. Basically, pure aloe juice applied solo can be used as a face mask too. Just use a face mask sheet and soak it with aloe gel. Put it on face.
Naturally, if you want to, you can combine aloe gel with other substances like honey, linseed (also in its gel form) and a chosen herbal distillate. Furthermore, aloe gel can be also mixed with rose oil or argan oil. When combined with egg white, you will create a lifting face mask. Also, you can mix aloe gel with baking soda to create anti-ageing face mask that soothes acne.