Pharmaceris is a brand known for the production of many successful dermocosmetics. You have probably seen some products in pharmacies and your friend might use a foundation from this brand. Recently, Pharmaceris has released a new product to the cosmetic market. It is a trichilogy cleansing peel for the scalp with hair loss and dandruff problem, H- Stimupeel. Have you seen the product?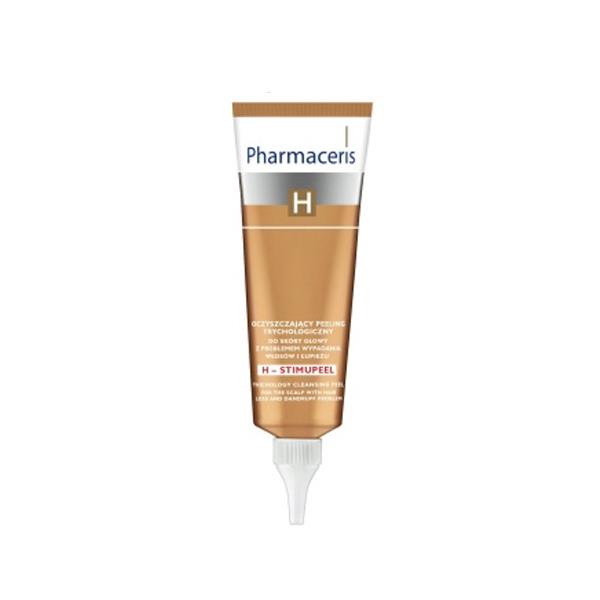 Trichilogy cleansing peel H- Stimupeel from Pharmaceris is recommended for people who struggle with the problem of excessive hair loss and dandruff. The cosmetic can be used by both men and women. The product is designed to deal with baldness (also known as alopecia) thinning and seborrheic dermatitis. The peel is hypoallergenic and safe for people with sensitive scalp.
How does Pharmaceris H-Stimupeel peel work?
The product removes dead skin cells and excess sebum. It cleanses scalp of impurities, unclogs hair follicles and provides skin with proper pH. The product contains enzymatic and mechanical exfoliants that remove dandruff, sebum and any remains of hair styling products. The composition of the cosmetic includes: papain, apricot shell, caffeine, urea and substances with antibacterial properties. Caffeine increases hair life cycle, improves blood circulation, oxygenates cells of the scalp, strengthens hair, reduces hair loss and inhibits baldness. Urea provides an adequate level of moisture and prevents strands from dehydrating. Moreover, in Pharmaceris H-Stimupeel peel you will not find any artificial ingredients (parabens, allergens, dyes, SLS, sulfate salts, silicones).
How to use Pharmaceris H-Stimupeel?
It is recommended to use the product at least once a week. Apply a small amount of the cosmetic onto wet strands. Then, gently massage in circular motions for couple of minutes. Rinse with lukewarm water. Next, wash with your regular shampoo. If you would like to achieve even better results, follow your peel treatment with shampoos and conditioners from the same brand.