Are you always running out of time to do your eyebrows? If you want to save some time at the cost of spending some money, you can get yourself a semi-permanent eyebrow make-up. Check the pros and cons of this treatment.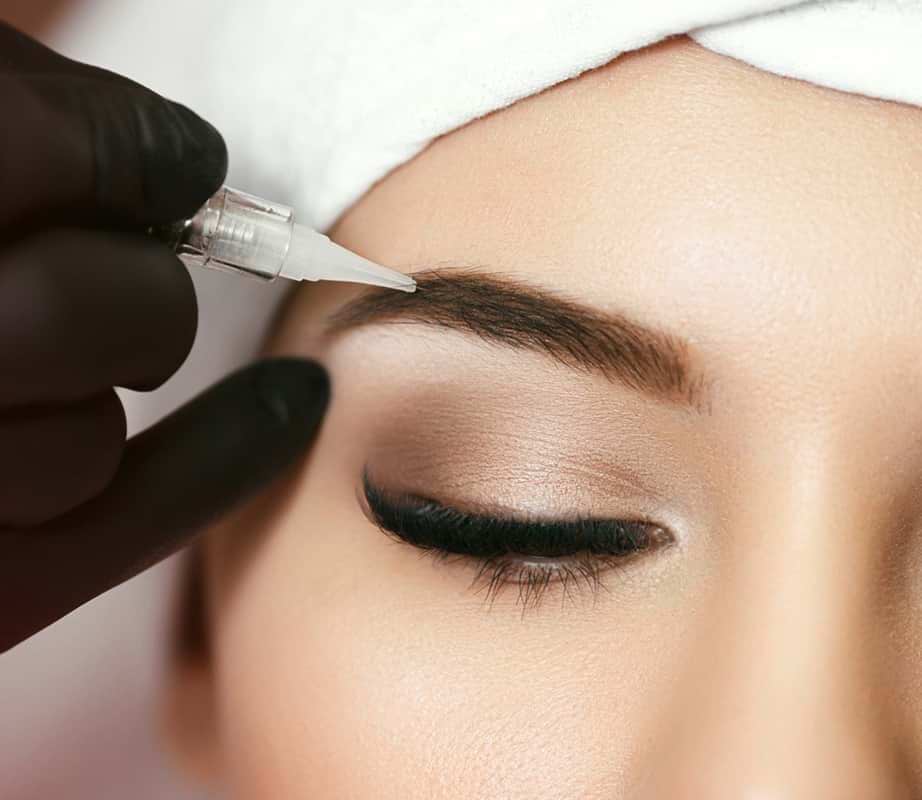 Permanent make-up is an alternative for people who don't have time to do their eyebrows eyeryday. Proponents of this solution emphasize the durability of such a make-up, the opponents, on the other hand, keep reminding that this is still some kind of a tattoo. What is the truth? Is this a good option if we wish to have beautiful eyebrows.
What is semi-permanent make-up about?
The most frequently asked questions about permanent make-up are: what it is about, how it differs from the tattoo, how it looks like. The answer is simple. This is one of the most popular cosmetic treatments that resembles tattooing, because it involves putting a dye under the skin. The aim is to outline the correct contour of the eyebrows, fill and highlight them. As naturally as possible, but at the same time permanently.
Important! Permanent make-up should always be done by a professional, called a lingerist. Why so? Because it's an invasive procedure that requires proper skills.
Semi-permanent eyebrow make-up – effects
Women who have never undergone a permanent cosmetics application are afraid of the effects. They are afraid that their eyebrows will look artificial and that the effects will be exaggerated and amusing.
Done correctly, the permanent make-up matches your appearance, hair colour and face shape. Because of this, it is natural. The result is a perfectly highlighted eyebrow arch with a perfect shape. The eyebrows look fuller by darkening and filling the gaps with a dye.
Semi-permanent eyebrow make-up – techniques
There are quite a few methods depending on what effect we expect and what budget we have. These include:
Microshadowing – gives the brow a gradient appearance, it results in a soft, powdered effect that resembles eyebrow powder.
Ombre – it is done in the same way as microshadowing but with the use of different shades.
Microfeathering – it is done by adding tiny hair strokes, thanks to which the make-up resembles natural hair.
Does semi-permanent make-up hurt?
No. During the procedure, hypoallergenic dyes are introduced under the skin and this is done with delicate needles. It is possible to feel delicate pain, which is why in professional beauty salons eyebrow permanent make-up is carried out after insensibilisation. The quality of tools used matters as well.
Is it worth it? The advantages of semi-permanent make-up
Many women have their eyebrows done because they want to make their everyday make-up easier. This treatment has many advantages:
it saves time as you don't need to do eyebrows any more;
it naturally embellishes eyebrows if done correctly;
it is a permanent procedure, lasting even up to 2 years without any corrections;
it allows you to have a perfectly designed eyebrow;
it gives your brows an almost ombre effect.
Semi-permanent eyebrow make-up. How much does it cost?
You probably think that it must cost a fortune considering the effects and the advantages f the permanent make-up. In fact, this is one of the most expensive treatments, but it's important that the effects last for several years. What is the price? It all depends on the technique chosen (microfeathering method costs more) and the salon (in a professional salon it will be more expensive). Regardless of the final cost, it will be a price adequate to quality, durability and results.