Curling, straightening and generally doing the hair are tasks that need some skills but also products that will make the styling go more smoothly and quickly. The products such as Nanoil hair styling spray – a BEST-SELLER that thousands of women are crazy about.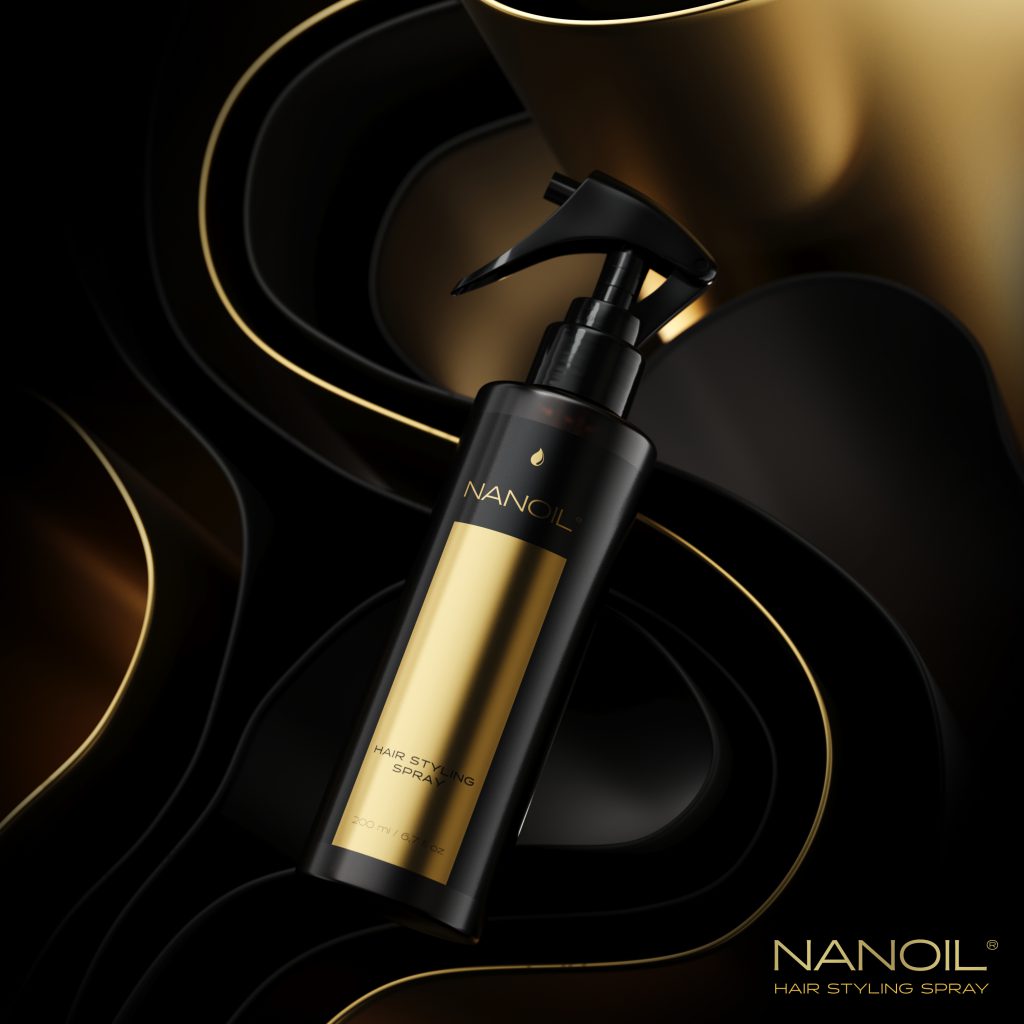 What's the secret of a pre-styler from Nanoil? Why is it a top pick for home styling routine as well as hair salons? Time for a brief analysis of the Nanoil Hair Styling Spray.
Nanoil Hair Styling Spray – product details
The hair primer by Nanoil is a light, water-based mist. Formulated without oils, meaning the texture doesn't cause oiliness, a sticky layer or weighing down. It has a wonderful smell and envelopes the hair with a delicate, weightless coating which protects as well as smooths and nourishes.
The product comes in a beautiful packaging but it shouldn't surprise anyone who's ever had cosmetics from Nanoil. It's a spray-on bottle so using it is a child's play.
What benefits does this pre-styler bring?
The effect of Nanoil spray is its greatest asset. You should know it is not just a regular hair spray. It combines properties of a heat protectant, a spray that holds a style in place and a conditioning hair mist. The multiple benefits make Nanoil Hair Styling Spray a best-seller.
Nanoil Spray aids in detangling, staving off tangles.
It adds smoothness and resilience, plus delivers gorgeous shine.
It keeps hair from getting frizzy or static after washing.
It reduces blow-dry time.
It highlights the effects of straightening or curling.
It guarantees hold, making the hairstyle last for many hours.
Styling & nourishing in one!
The formula of Nanoil Hair Styling Spray is innovative because it is rich in ingredients that nourish and improve the hair while you style it. The beneficial components include pro-vitamin B5 (aka panthenol) which makes the spray do something more than act as a pre-styler – it ramps up levels of hydration and heightens the gloss.
The INCI has been thought through – there are no needless additives. The type of silicones in the formula are hair-friendly and help take control of the most unruly strands. Thanks to that, it is a styling spray for all hair types – regardless of its length, thickness, density or color. They don't matter because it's equally effective on every type of hair.
How to use Nanoil Hair Styling Spray?
The possibility of using it both on dry and wet hair is a pleasant surprise. The standard application involves spraying it on damp hair after washing and prior to blow-drying and further styling. However, nothing stands in your way if you want to reapply it during the day to tame frizzy strands from humid air, for example.
The spray is easy to use and non-overburdening. It can be used a couple of times a day if necessary.
Test the Nanoil's styling spray yourself
You can learn more about this product on www.nanoil.co.uk
Unsurprisingly, testing the Nanoil Hair Styling Spray on your own is the best way for seeing if it really works so well for doing the hair at home. Place an order at an official Nanoil store and get yourself the styling spray (or other spray they offer, for example a heat protectant) – have the parcel delivered within a few days and enjoy easier-to-style, fabulous tresses.